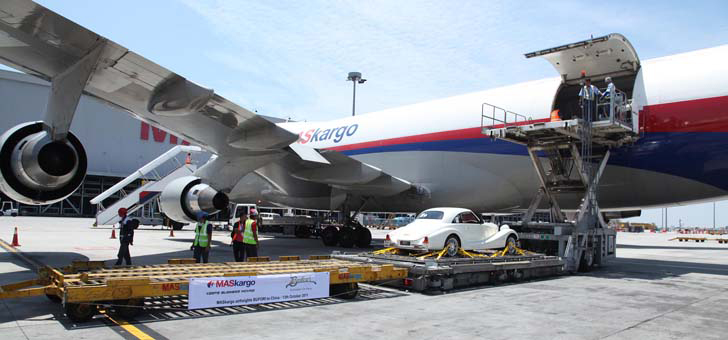 BUFORI handmade cars air-freighted to Shanghai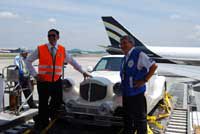 October 13th 2011 – MASKARGO Sdn Bhd and BUFORI Motor Car Company (M) Sdn Bhd jointly announced their co-operation on sending the first BUFORI cars to China. MASkargo will air-freight three exclusive BUFORI vehicles from Kuala Lumpur International Airport to Shanghai Pudong, where the cars will be displayed at the 2011 Top Marques Luxury Show and the soon-to-open BUFORI showroom at the prestigious Xiantandi district.
The handmade BUFORI vehicles, which are built to order in Kuala Lumpur, will be transported using a Boeing 747-400F freighter. Flight schedule for the cars commences at 1405 hours (local time) on board the MASkargo flight MH6162 – before arrival in Shanghai at 1905 hours.
"This is the first time BUFORI cars will be available in China and we wanted to make sure that the vehicles arrive safely and in pristine condition. To achieve this, air freight was the best option and who better than Malaysia's own, MASkargo to handle this. BUFORI has air-freighted many cars with MASkargo in the past and has been impressed with the quality of service and professional assistance provided. We are very happy that MASkargo supports our Made in Malaysia cars and our effort to put Malaysia on the map as a producer of luxury vehicles" said Gerry Khouri, Managing Director of BUFORI.
"Our professional logistics team has been dealing with all kinds of goods in the past and also has extensive experience in handling luxury cars. MASkargo's frequent freighter flights into Shanghai allow a speedy delivery of the cars and help to keep BUFORI's business moving" commented Mr. Mohd Yunus Idris, Senior Vice President of Global Sales and Government Affairs of MASkargo.
Close co-operation
Furthermore BUFORI announced that it appointed MASkargo as its preferred partner for worldwide air-cargo transportation.
"The modern fleet, the advanced cargo centre, the worldwide destinations and of course their expert team make MASkargo the best choice for uplifting our cars from Malaysia to reach anxious customers around the globe" said Gerry Khouri.
BUFORI cars have in fact been air-freighted using MASkargo numerous times in the past years. From the first BUFORI that arrived in Malaysia in 1992 until today, many customers insist on having their custom-made beauties being pampered during a first-class air-freight delivery.
"Especially with the launch of our BUFORI Geneva Luxury Saloon, we noticed a growing trend towards air-freight, particularly from the Middle-East. Certain high-profile clients do not feel comfortable with the idea of their cars being confined into a container and spending several weeks at sea" said Felix Haller, General Manager – Marketing of BUFORI.
According to Mr. Mohd Yunus Idris, "This is another milestone for us. I am proud that part of our initiatives is to continuously look at ways to improve our efficiency and quality of service to serve our customers better."
Recently MASkargo solidified their presence in the air cargo industry by purchasing four Airbus A330-200F. The first delivery was in September 2011 while three more are scheduled in November 2011, January 2012 and April 2012.