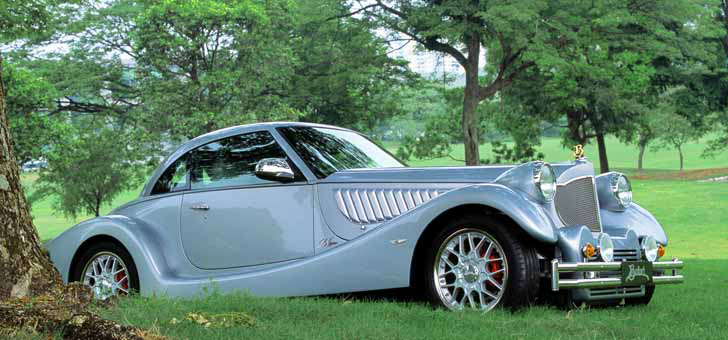 Hand-made luxury cars to drive Stars to the glamorous live event.
April 30th 2009 – Malaysian luxury car manufacturer BUFORI was appointed as the official car for AIM16 From the Blue Carpet, an exclusive show which airs 30-minutes before the broadcast of nation's most prestigious music awards show, Anugerah Industri Muzik (AIM16).
The hand-crafted BUFORI masterpieces will be used to chauffeur Malaysia's top singers to the Blue Carpet which will be aired LIVE on ntv7 this Saturday, 2 May, 8.30 pm to 9.00 pm.
Stars like the "Queen of Jazz" Dato'Sheila Majid or Malaysia's "Ambassador of Hip Hop" Joe Flizzow will have the opportunity to experience the comfort of the bespoke leather interior of a BUFORI La Joya and arrive in style at the Blue Carpet. "We are very proud that our unique cars will be used for this prestigious event. A glamorous music award show is BUFORI's natural environment." says Sales & Marketing Manager Felix Haller.
The 16th edition of the glamorous AIM awards will be held at PWTC and see the unveiling of winners in 28 categories, witnessed live by over 1 million viewers.
About Anugerah Industri Muzik 16 (AIM 16)
The heat is on for the nominees of AIM16 (Anugerah Industri Muzik) – the one and only local awards show on national TV that gives recognition to Malaysia's best artistes and musicians regardless of color! Hosted by the exuberant trio – Adibah Noor, Bob Lokman and Afdlin Shauki, the glitzy event will unveil the ultimate winners for 28 music categories including Best Hip Hop Song, Best Local English Album, Best Local Indian Album, Best Local Chinese Album just to name a few.
Last year, AIM15 has chalked up high ratings peaking at 6 TVR, translating to 1.1 million viewers. Hosted by the famous Nazruddin HabiburRahman, Sazzy Falak and Awal Ashaari, watch out for the line up of stunningly dressed artistes who will leave viewers starstruck on LIVE! From the Blue Carpet, Saturday, 2 May, 8.30 pm – 9.00 pm, ntv7. So, don't miss the nation's prestigious awards show – AIM16 on Saturday, 2 May 2009, 9.00 pm, LIVE from Putra World Trade Centre, only on Your Feel Good Channel, ntv7.
About BUFORI
The BUFORI MOTOR CAR COMPANY is a manufacturer of hand-crafted luxury cars combining modern technology with a timeless classic design. Founded in Sydney, Australia, in 1986 by the Khouri brothers, the company moved to Malaysia in the 90's where it is still located now. BUFORI motor cars are painstakingly hand-crafted to international standards, using only the finest materials and the latest technology. Each unit is made-to-order and customised to the requirement of its distinguished owner. The privately owned corporation is currently offering the BUFORI La JOYA, a two-seater coupé powered by a rear-mid-mounted 2.7l V6 engine. Brand new models are in the pipeline and will be released in the very near future.