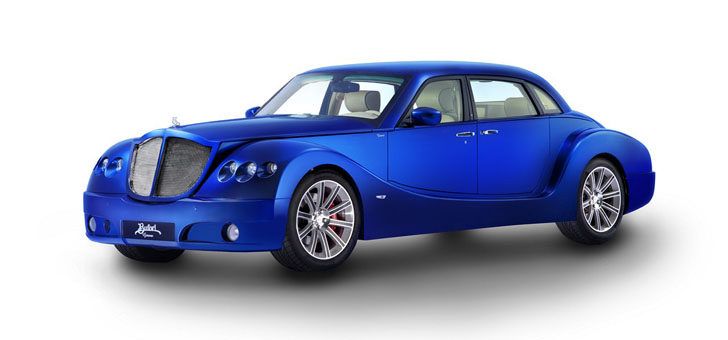 Officially named "Geneva"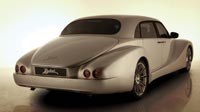 March 2nd 2010 – BUFORI Motor Car Company (M) Sdn Bhd has unveiled today its most eagerly awaited model at the 80th Geneva International Motor Show.
The car was officially presented by BUFORI Motor Car Company's Founders, Mr. Anthony Khouri, George Khouri and Gerry Khouri at a press conference during the prestigious Swiss Motor Show. At the same occasion, the Luxury Saloon, which was previously code name Bufori MKVI, was officially named "Bufori Geneva".
"We have decided to name this new Bufori model after the city it was launched in, as this occasion marks an important milestone in our company history. We also wanted to pay tribute to the 80th edition of this fantastic motor show and the beautiful city of Geneva, says Chairman and Co-Founder, Anthony Khouri".
A more contemporary interpretation of the BUFORI philosophy
The BUFORI Geneva combines cutting-edge technology with a beautifully proportioned body that exudes presence and style.
Featuring classic design elements such as the long running boards, the new luxury saloon also boasts noticeably modern styling cues such as elegantly integrated bi-xenon headlamps and LED rear lights.
Appealing to all senses, every material used in the Luxury Saloon is carefully selected to combine function with form.
The Bufori Geneva is a sublime choice for the style-conscious individual and is powered by a thoroughbred 6.1-litre V8 engine, producing an impressive 430hp and 586Nm of torque. Graceful, fast and comfortable, the Bufori Geneva is both a driver and master's car and provides an exceptional experience for all.
Opulent Interior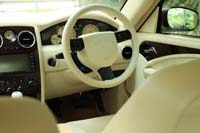 The interior design team has strived to create a relaxing ambience, combining traditional and modern materials such as leather and wood veneers.
The Bufori Geneva's classical rear-hinged coach doors provide elegant and effortless ingress and egress.
The interior space is filled with natural light, enhanced by the optional Sunroof and complemented by the integrated mood lighting. Compartments are all lightly illuminated for convenience. Individual fully adjustable rear lounge seating is offered as the standard configuration, with beautifully incorporated picnic tables for comfort and convenience.
The rear center console is entirely customized to the requirements of the discerning owner. Some of the unique features include a fine tea set with instant boiling water and sink, an Espresso coffee maker or even an ice box. An integrated cool box & mini bar for champagne and glasses, a strong box (safe) for valuables or a cigar humidor are also available.
A state-of-the-art and comprehensive multimedia system provides high-definition surround sound and a choice of 1, 2 or 3 touch screen monitors.
Engineered to last for generations
The semi-monocoque body of the Bufori Geneva is made of state-of-the-art Hybrid Carbon Fibre and Kevlar which is infused with Vinylester resin. This stronger-than-steel innovation provides supreme strength, light-weight and superior structural integrity as well as a lifetime of minimum maintenance. The Bufori Geneva is the first saloon in the world to commercially use such innovative materials.
The combined usage of the highest quality materials and components increases the overall durability of the car, which is literally built to last for generations. The chassis of the Bufori Geneva for instance is made using top grade stainless steel, protecting it against corrosion.
Power Train & Handling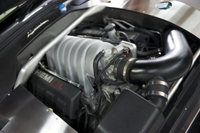 The car is powered by a 6.1Lt V8 engine with hemispherical cylinders and produces a generous 430hp and 569Nm of torque. A hemispherical combustion chamber allows the valves to be angled rather than side-by-side. This feature significantly improves the engine's airflow capacity, which results in high power output.
Power is transmitted to the rear wheels via an adaptive automatic transmission and limited slip differential.
Acceleration from 0-100 kph is under 6 seconds with a top speed of more than 260kph (estimated figures).
An optional supercharger boosts the performance of the engine to a healthy 560hp and 690Nm of torque.
The unequal arm front suspension and multi-link rear suspension sprung with a fully programmable and adjustable airbag suspension provide comfort and performance.
Driver Aids
Anti Lock Braking System, Electronic Brake-force Distribution, Brake Assist, Traction Control, Steering Angle Control and Adaptive Cruise Control are incorporated to provide a more enjoyable and safe drive.
The optional driver assistance systems and technologies in the Bufori Geneva are discretely packaged and easy to operate.
Positioned within the front bumper bar is an optional Thermal Imaging Night Vision camera. When activated, day or night, this safety feature recognises pedestrians and objects up to 300 metres away and displays them on the screen conveniently positioned in view of the driver.
Lane Departure Warning (LDWS) alerts the driver should the car unintentionally attempt to leave its current lane. When activated, it uses an integrated camera, located just in front of the rear view mirror, to monitor road markings and the vehicle's position. When the signal light is used the system recognises the lane change as intentional and no warning is issued.
The HUD (Heads-up Display) relays essential information such as vehicle speed, RPM, LDWS onto the windscreen to allow the driver to focus on the road.
Active Cruise Control creates a relaxing driving experience, particularly on long cruising journeys, as action is not required when a vehicle ahead speeds up or slows down.
Safety
Safety is one of BUFORI's top priorities. To compliment the driver aids and energy absorbing hybrid Carbon Fibre & Kevlar body, the SRS (Supplement Restraint System) not only includes pre-tensioned seat belts, but also dual front air bags, side air bags and side curtain airbags.
Craftsmanship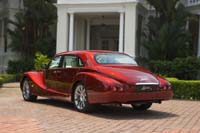 BUFORI's most valuable asset is its highly-skilled craftsmen. Each BUFORI vehicle is a masterpiece in its own right. Passionately crafted and assembled with the utmost care and precision.
The in-house R&D and manufacturing facility in Kuala Lumpur/Malaysia employs a mix of old & new school craftsmen who master traditional as well as modern coach building techniques.
Each BUFORI Geneva moves through 24 production stages and requires more than 6,000 man hours to create.
From infusing the hybrid composite material body to making the Stainless steel chassis, brackets, exhaust, fuel tank and bright work; from moulding the foam for the seats and thermal & acoustic insulating materials to hand-stitching the leather; from painting the car, to making the wiring harnesses and tuning the suspension; every single process is executed to perfection.
An example of some of the qualities Bufori looks for when sourcing raw materials is the superior leather. The strict selection and homogenous tanning of the flawless Alp-cow hides provide durability and easy maintenance.
Fine quality carpet is particularly chosen for its consistent density and colour fastness, as well as fire resistance. The same care goes into choosing paints, composite materials such as the high tech Carbon Fibre & Kevlar hybrid material and top grade stainless steel for all the metal parts such as the chassis and the bright work.
Made to order
From inception, every Bufori is "Tailor Made" and personalised for its discerning owner. Body colours, which can be chosen in single or two tone combinations, are truly limited by imagination.
The choice of Interior trim materials, colour combinations, leather textures and types of perforations, types of veneer, colours and finishing, inlays etc is literally endless.
Creature comforts such as fine tea sets, Espresso Coffee machines, ice boxes, cool boxes, cigar humidors, strong boxes, mood lighting and more are all available on request.
Personalisation such as holograms, signatures, names, badges, embroidery, etc. can all be incorporated in the body paint, interior trim, veneer, stainless steel scuff plates.
To ensure ultimate security, BUFORI also offers high security vehicles that include among others, ballistic resistance to protect against the required level of threat.
Considering the level of personalisation available, the Bufori sales team is well trained to assist the esteemed owner in choosing the specification requirements that best represent them.
Naturally, the Bufori clientele is welcome and even encouraged to visit the Bufori factory to experience the passion & pride that goes into the creation of their cars.
Production to start in June 2010
The production is scheduled to start in June 2010 with the first units delivered before year end.
Like all Bufori vehicles, The BUFORI Geneva will undergo the world's most stringent certification procedures and successively be made available in key markets such as Europe, Asia, Middle East and eventually North America.
Gerry Khouri, Managing Director and Co-Founder of BUFORI said "This new model marks an important milestone in the company's history. This new model, introduces the first of a new generation of BUFORI vehicles. We have been developing this new model for close to 2 years and are proud of our achievements."
Joe Lim, Managing Director of BUFORI Sales & Marketing said "We are very happy to introduce this magnificent new model. Our customers and official dealers have been waiting for this four door BUFORI and we are convinced that we will exceed their expectations".
Felix Haller, General Manager – Marketing & International Business Development of BUFORI, said "Our aim is to offer a genuine alternative to the luxury saloon segment, and at a global level. We have created something truly unique that epitomises the BUFORI DNA; An ageless contemporary classic styling, quality and attention to detail, traditional craftsmanship and endless customisation possibilities. The BUFORI Geneva is targeted at individuals who are passionate about automotive design and technology and are unable to identify themselves with a bland mass-produced luxury car.