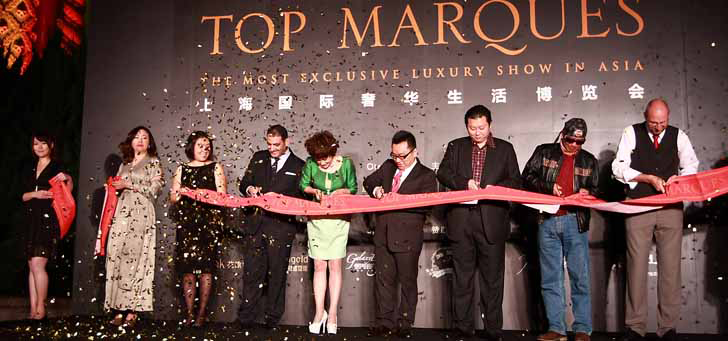 First contemporary-classic car available in China
October 27th 2011 – BUFORI Motor Car Company (M) Sdn Bhd successfully launched the BUFORI China distributorship at the Shanghai Top Marques Luxury show, where Managing Director Gerry Khouri and Chinese Superstar Liu Xiaoqing jointly unveiled a handmade BUFORI La Joya in front of the media and VIP's.
As the official car of the Top Marques show, the BUFORI La Joya and the BUFORI MKII race car were used to escort VIP's to the festive opening ceremony at the Shanghai Exhibition Centre.
BUFORI Motor Car Company appointed BUFORI China Ltd as the exclusive distributor of BUFORI vehicles in China. The company, which was formed in June this year, resulted from a partnership with Jiaochen Group, a dynamic Ningbo-based corporation which operates numerous automotive dealerships in the region.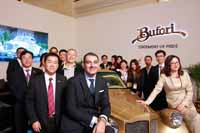 "We are extremely proud to have found in Jiaochen Group a strategic partner which recognises the genuine value of the BUFORI brand and are looking forward to a successful co-operation" commented Gerry Khouri. "BUFOR China is managed by a competent team of experienced and dynamic members which will develop the brand throughout the country, starting with the directly operated flagship showroom in Shanghai" he added.
The first batch of handmade BUFORI cars were air-freighted to Shanghai in co-operation with MASkargo and will be exhibited at the soon-to-open BUFORI flagship showroom in Xintiandi, a prestigious district in the centre of pulsating Shanghai.
Entering the world's most dynamic luxury market
Showing consistent growth and prosperity, China has evolved into one of the world's most significant markets for luxury products and countless ultra-premium vehicles can be spotted on the streets of the country's fast-paced mega-cities. However, BUFORI is the first manufacturer to offer contemporary-classic styled cars in China and occupies a niche segment of the automotive luxury market.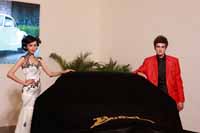 "With the classic lines and refinement of BUFORI, we hope to fulfil the taste of Chinese high net worth individuals who appreciate the finer things in life" says Andy Xing, Executive Vice General Manager of BUFORI China. "Chinese customers are increasingly demanding, and our BUFORI cars represent an exciting and elegant alternative to the generic designs available today. We are convinced that BUFORI will quickly set a new trend towards contemporary-classic luxury cars" he commented.
Following the opening of the flagship showroom in Shanghai in December, BUFORI China is planning to set-up additional dealerships throughout China, with showrooms to be established in Beijing, Chengdu and Shenzhen by 2012. The brand will also showcase its handmade luxury vehicles at the Beijing International Motor Show in April next year.
"The response we experienced in China has been extremely positive, needless to say that we expect China to become our biggest market very soon" added Felix Haller, General Manager of BUFORI Motor Car Company.